Tiamat



Title

Five-Headed God of Evil Dragons

Alignment

Evil

Domains

Wealth, Greed, Vengeance, Strife

Dominion

Tytherion

Children and Worshipers

Chromatic Dragons, Kobold, Hoarders
Origins and Exploits
Edit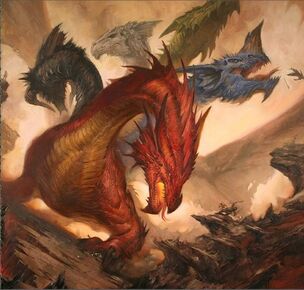 Commandments
Edit
She commands her followers to:
Hoard wealth, acquiring much and spending little. Wealth is its on reward.
Forgive no slight and leave no wrong unpunished.
Take what you desire from others. Those who lack the strength to defend their possessions are not worthy to own them.
Exarchs Allies and Followers
Edit
Rivals and Enemies
Edit
Ad blocker interference detected!
Wikia is a free-to-use site that makes money from advertising. We have a modified experience for viewers using ad blockers

Wikia is not accessible if you've made further modifications. Remove the custom ad blocker rule(s) and the page will load as expected.