Bane



Title

The Iron General, Bane of Primordial Evil

Alignment

Evil

Domains

War, Conquest, Skill

Dominion

Chernoggar, more specifically The Iron Fortress

Children and Worshipers

Goblins, Militant humans, Generals, Tacticians, Warriors, Tyrants
Origins and Exploits
Edit
Commandments
Edit
He orders his commands his worshipers to:
Never allow fear to gain mastery over you, but drive it into the hearts of your foes.
Punish insubordination and disorder.
Hone you combat skills to perfection, whether you are a mighty general or a lone mercenary.
Exarchs Allies and Followers
Edit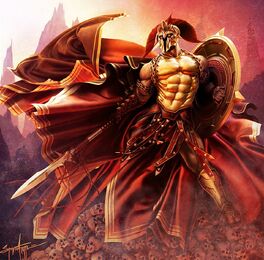 Rivals and Enemies
Edit
Ad blocker interference detected!
Wikia is a free-to-use site that makes money from advertising. We have a modified experience for viewers using ad blockers

Wikia is not accessible if you've made further modifications. Remove the custom ad blocker rule(s) and the page will load as expected.